Definitely, you can't go wrong with this.
We all know that t-shirts are a must in anyone's closet. But sometimes they are not so easy to combine. Figuring out what to wear yours with besides a good old pair of denim jeans could be the classic look, there is more to explore! If you need some more styling inspiration, take a look at these 5 ways to style your designed t-shirt that proved just how versatile a t-shirt can be.
With a blazer:

Image: https://everydayurban.squarespace.com/
Instead of a button-down and blazer, make it a T-shirt and blazer for work. Now you can pair the two with jeans and you can stick to black, white, and deep grey but not blue if you want it to look professional.
2. Tucked in with a pair of wide-leg jeans: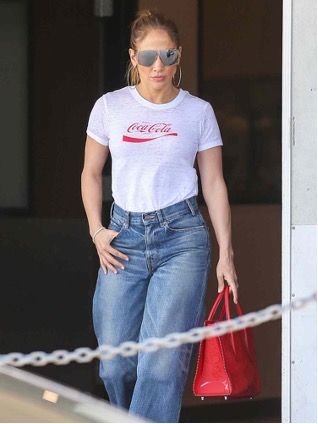 Tucking a designed T-shirt into denim pants is so fashion-forward! Pair with your favourite shoulder bag and pointed-toe loafers and walk with confidence. It's a bold and beautiful mix that I'll definitely be rocking all year long.
3. Paired with a skirt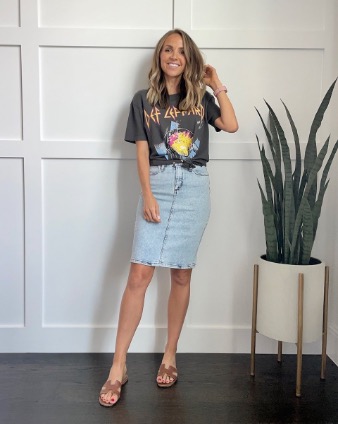 Taking a graphic T-shirt into a flowy, long-lined or short skirt makes us feel like we are living in the California dreams and is a fun way to bring a more feminine vibe to the T-shirt look. If you haven't yet considered this beautiful mix of girly meets edgy, it's a sure and effortless way to up your warm-weather fashion game.
4. Oversize and bike shorts
We saw this look on the streets a couple of summers ago. An oversized graphic t-shirt with a pair of bike shorts is one of the comfiest outfit combinations. This combo screams "effortless is my middle name". It's a perfect take on the look trendy without trying.
5. A little glamour on it

This is an absolutely unexpected, clean and glamorous outfit combination. Tuck a t-shirt into a pair of tailored pants for a chic surprise! Paired with pointed-toe heels, a belt, chic jewelry, and red lipstick. To add an extra, add the statement: Fabulous is my middle name. You can find it here! 
If you love wearing t-shirts, with these ideas you can make them appropriate not only in daily life but to wear to most workspaces that require a business casual look. They're a great option if you're looking for a low-key vibe, but you can also dress 'em up too!